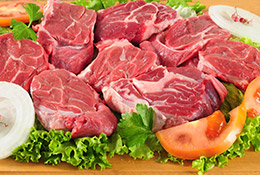 Meat is delicious as it is important to many of our customers. At Ann's Health Food Center and Market we offer quality meat, cage-free, and pasture raised. Our pasture raised meats are certified organic and grass-fed and the best quality you can find.
We have organic and grass-fed beef, chicken, turkey, buffalo, and fish. Beef, pork, and chicken antibiotic and hormone-free meats are available so you can eat a meal free of chemicals.
We also carry vegetarian and vegan meats. We have a selection of frozen meat and vegetarian entrees for those who may be too busy to cook a meal.
The staff at Ann's Health Food Center & Market are dedicated to bringing you the best products for the best prices. Call (214) 942-9483 for our Dallas location or (972) 923-1400 for our Waxahachie location if you have any questions about our pasture raised meats.
We are able to special order any natural or organic product you don't see in our store with up to a 10% off discount!