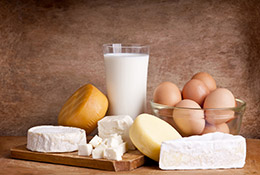 Our large refrigerated area has organic dairy, eggs, cheese, chicken, and meats. Enjoy our natural and organic deli slices, as well as soy, goat, and Greek yogurts.  Ann's has a selection of frozen dairy and non dairy desserts, wheat and gluten-free foods, as well as meat and vegetarian entrees. We also carry frozen breads from sprouted grains, breads with no sweeteners, carbohydrates and no sodium too. Enjoy our large selection of frozen fruits and vegetables, muffins, waffles, and pies.
The staff at Ann's Health Food Center & Market are dedicated to bringing you the best products for the best prices. Call (214) 942-9483 for our Dallas location or (972) 923-1400 for our Waxahachie location if you have any questions about our organic dairy products.
We are able to special order any natural or organic product you don't see in our store with up to a 10% off discount!